Indonesian Massage
What is Indonesian or Balinese Massage?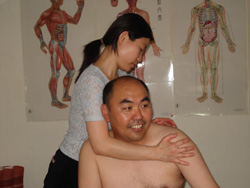 For those seeking the ultimate , penetrating oil massage, this could well be it. It's pedigree is a long one- at least 2,000 years and its origins are to be found in Ayurveda. Those familiar with Traditional Chinese medical theory who subsequently receive Indonesian massage will recognise a very disciplined treatment of the main energy meridians.
Whether this is intuitive or the result of Chinese influence in the distant past , it is difficult to say. As practiced today, Indonesian massage is still very much part of an effective healing system that also includes herbal remedies called "Jamu'
A qualified Indonesian Massage Practitioner can provide clinical assessment and appropriate therapy.
Indonesian massage is performed on the floor or on a hard bed or couch. The recipient is naked but may be partially covered with a towel over areas that are not receiving attention. For people of modest stature, Indonesian massage therapists have astonishing strength in their thumbs and elbows their principal massage tool.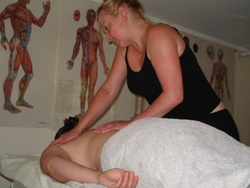 This is a deep massage - very deep and is not for the faint hearted. Even the stroking techniques are penetrating, using as they do the heels of the palms and lots of body weight to push deeply into the tissues.
Thumb kneading is used everywhere with Indonesian massage to give the ultimate muscle fascia release. Manipulations using stretches, pulls and twists are used to brilliant effect on the spine.
Is it suitable for everyone?
Except for those with the usual conditions that would contraindicate any kind of massage this is wonderful therapy. Its appeal might be limited, however for those who are very sensitive to deep pressure pain.
What does it do for you?
Indonesian massage offers a powerhouse of techniques that treat chronic and acute muscle and joint pain. It calms the emotions, relaxes body and mind and really contributes to the "feel good " factor. Headaches, sciatica and insomnia are also treated.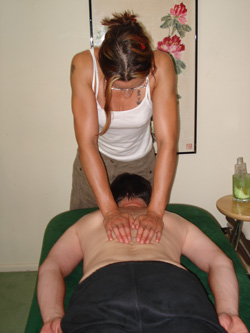 Traditional Indonesian Massage which includes Javanese and Balinese massage and is similar to Ayurvedic massage dates back almost as far as Chinese and could be regarded as the original holistic method.
It is an amalgam of ancient therapeutic techniques whose variety is endless.
In Indonesian massage pushing techniques predominate, working very deeply to ease muscle and joint pain.
Unlike other oil based forms of massage, Indonesian techniques are designed to give very deep stimulation to the soft tissues. These techniques particularly affect the connective tissue of the muscles - the myofascia and tendons. It is a highly effective treatment for sports injuries.
Oil is used for Indonesian Massage, which is strongly therapeutic, and has a beneficial effect on the body's circulation and lymphatic system by releasing it's regenerative and self healing powers. Indonesian massage is performed on a mat on the floor or on a massage couch or when seated on a chair.